Violin lessons
Maria teaches the violin to children and adults, both beginners and advanced students. Children can start with their lessons with Maria from age 4 onward. Lessons can start at any time during the school year.
For children, lessons take place weekly and last 30 minutes for beginners, whereas advanced students can choose to take longer lessons of 45 or 60 minutes. Adults have the option to plan their lessons biweekly or irregularly.
Violin lessons for preschoolers
Lessons for young children engage the children's fantasy with playful and varied activities: together we move, sing, listen and portray stories. The children play by ear. One parent accompanies the child and stays during the lessons. Children can also start to take lessons in groups of 2 or 3.
Violin and viola lessons for children
Children of 6 years or older develop playing technique and good hearing from the start in a playful way. In the beginning Maria teaches mainly auditive, a bit later we add reading music and music theory. Each lesson we play music together. Maria also accompanies all her students at the piano.
Parents of beginners are always welcome during lessons. The children benefit immensely if their parents are involved and support them during practice in a positive way. Even if the parent only attends the last 5 minutes of class, he or she can help to repeat and consolidate at home what was introduced in the lesson.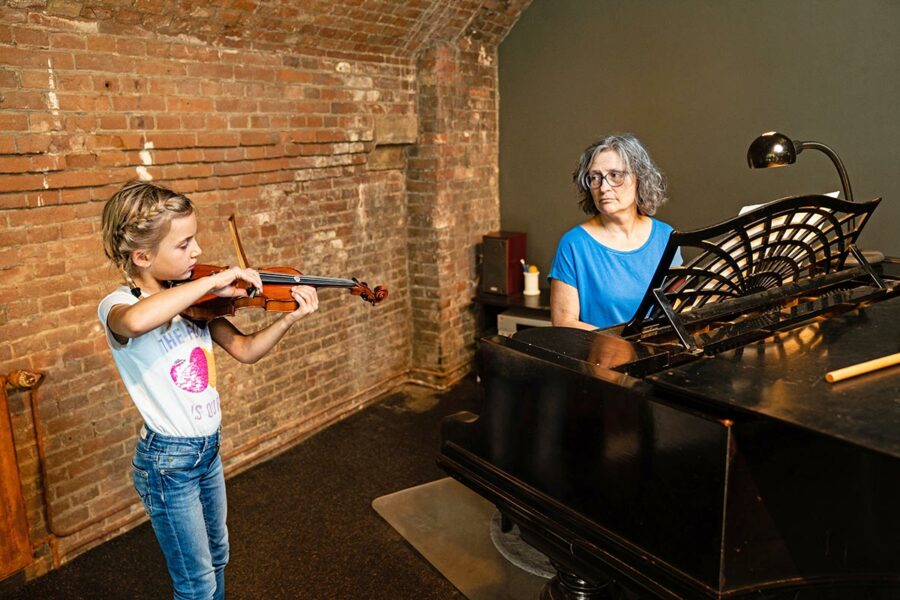 Violin and viola lessons for adults
Starting to learn violin or viola later in life or picking it up again? You can start at every age! Especially adults appreciate consciously how enriching it can be to continue to learn. You don't have to be able to read sheet music if you want to start violin lessons.
The viola
Fascinated by the deep and warm sound of the viola? You can share that passion with Maria. How wonderful to play in the middle of a quartet or an orchestra! But also viola trios or quartets sound great. Maria adapts a variety of music for her students to play.
Learning to play together: "Fiddlers tussen de bogen"
Playing together is more fun than alone and playing together weekly makes you advance faster. Children can join the "Fiddlers tussen de bogen". We learn to play songs mainly by ear; these are short pieces- varying from classical to folk and jazz. The students learn how to accompany and also improvise on the spot. Even scales and rhythm exercises become fun.
Chamber music for young people and adults
For young people and adults Maria organizes chamber music projects, sometimes together with colleagues. She helps to prepare for youth- and amateur orchestras and for performances at school.
Performing
Twice a year we perform for family and friends. Those are festive and exciting events. A mixed program of solo pieces, chamber music and orchestra pieces make for a fun and inspiring afternoon. Sharing the stage can be easier than alone. Sometimes we all compose our own piece for the performance or have a special theme. In addition to the student concerts Maria encourages her students to play at family events, at school, camp or just for friends. It's always great to share "live" music.